Want to eat well without deprivation and have the almost tricking yourself feeling, of having a slap up hearty and rich meal, without any of the heaviness afterwards? Then this is your recipe!! Satiating your appetite and tickling the taste buds all while nourishing your body with a super sustainably grown veg.
Before you get started, here are some of the key benefits to get you extra excited about this dish:

Key benefits:
The spices are choc full of antioxidants 
Healthy fats from the natural yoghurt 
Fresh herbs which are full of phytonutrients 
Omega rich nuts
Vitamin C rich from the fresh lemon juice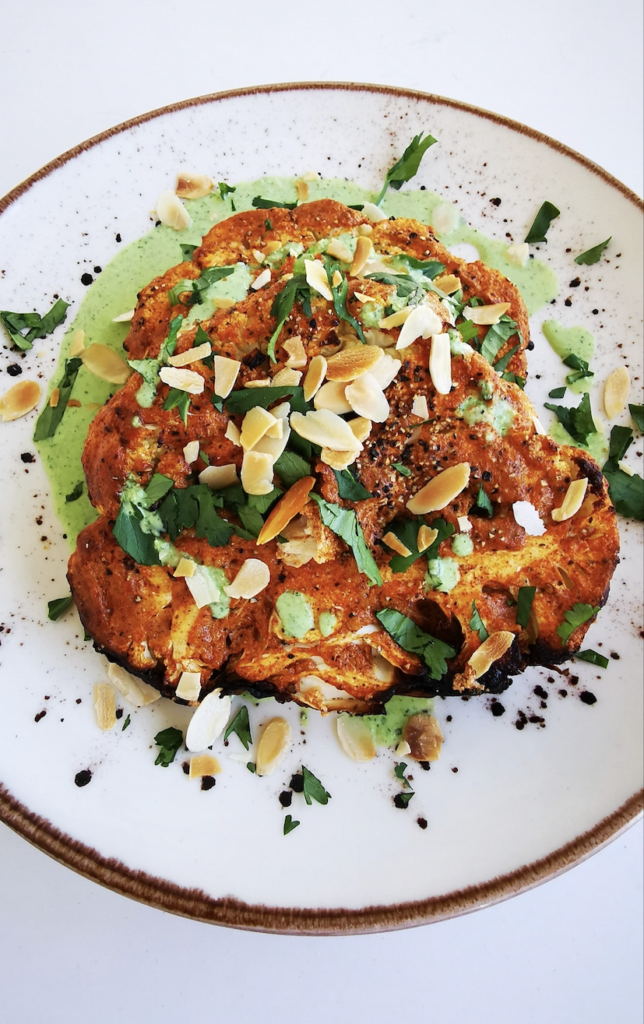 ---
Time: 25 mins plus a few hours or overnight marinating time 
Difficulty: Easy 
Serves 2 – 3
Ingredients
For the tandoori cauliflower 
1 large head of cauliflower, the larger the head, the more steaks you will get 
2 heaped tsp tandoori spice mix, see notes below if you want to make your own 
Juice of 1 wedge of lemon 
1 garlic clove crushed 
1 tsp grated ginger 
300ml natural yoghurt 
Salt + pepper 
1 cup of mint leaves only 
2 cups of coriander leaves 
1 cup of yoghurt 
Juice of half a lemon 
1 thumb sized piece of ginger peeled and grated 
2 green chillis deseeded 
Salt + pepper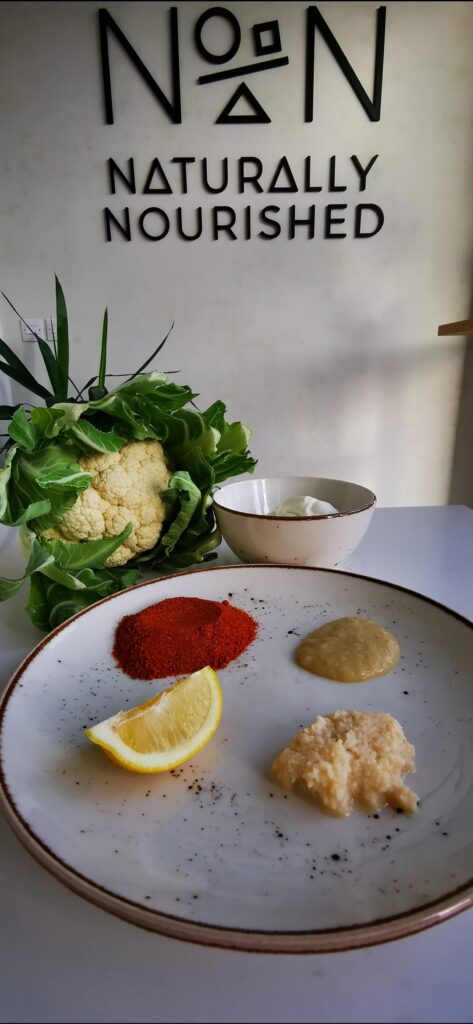 ---
Method
Tear the leaves gently from the cauliflower and set aside.
2. Slice a thin slice off the stalk to ensure the cauliflower is stable when standing up on a board.
3. Then take your sharp knife and slice the end off the cauliflower head, this and all other bits can also be marinated and roasted along side the steaks, so there is no waste!! (we no likey waste)! Cut thick slices through the head of the cauliflower to get your "steaks" ensuring they are thick enough to hold their shape, they should be roughly just under an inch in thickness. Set aside. 
4. When you have your steaks and the rest of the cauliflower cut, put on to a tray that will fit in your fridge and lay the cauliflower in an even layer.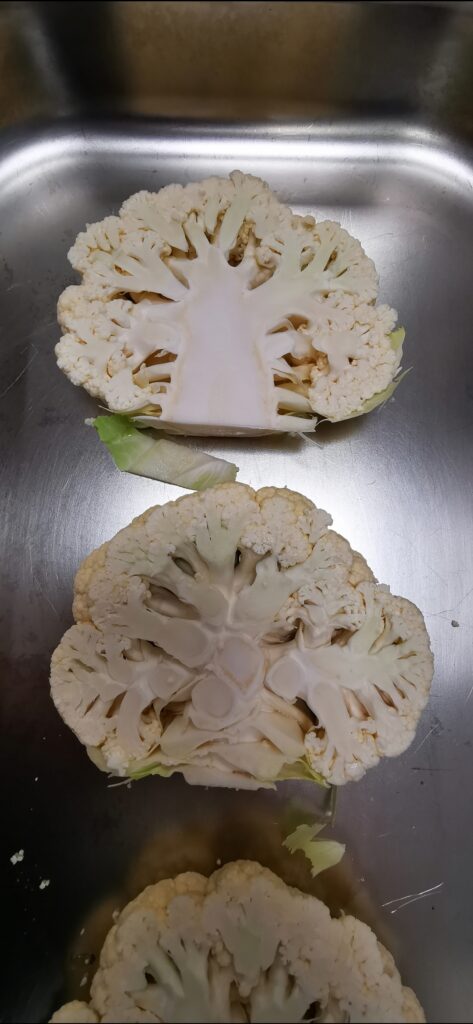 5. To marinade, stir all the marinade ingredients together in a bowl and pour half over the cauliflower, gently massage it in and turn over, add the remaining marinade, cover with cling film and leave in the fridge to marinade for minimum 30 mins but preferably over night. 
5. When ready to cook, heat oven to 185C, if the cauliflower has built up some watery residue, remove from the tray and add to a fresh tray for baking. Scatter the cauliflower leaves around the edges if using and massage the leaves with a little oil, they are delicious when roasted and charred but you can leave out this step if you wish.
6. Add the tray to the oven and bake for approx 15 – 18 mins until tender and charred. Check for tenderness by inserting a sharp knife into the cauliflower, if it is soft and the edges look golden and slightly charred then it is ready to go. If it still has some bite, leave it for another 5 mins or until done to your liking.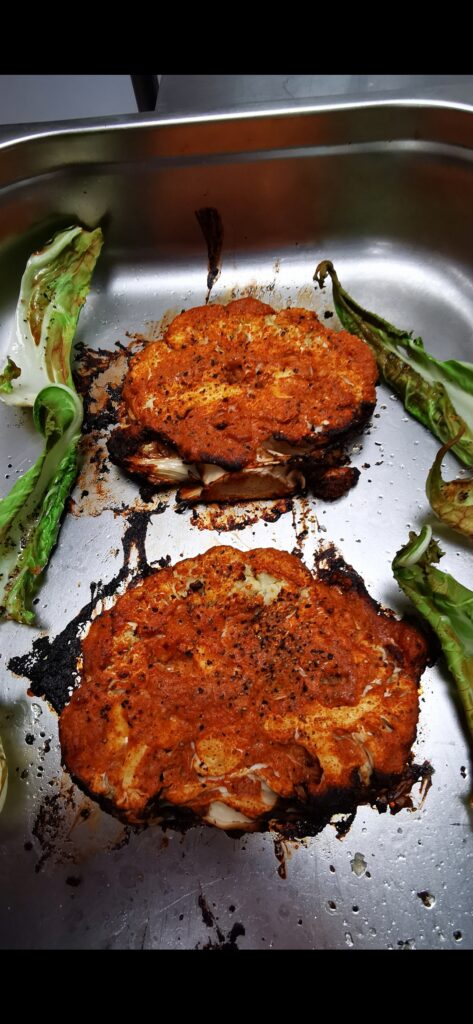 7. It's chutney time!
To make the chutney, add all ingredients to a nutri blender or blitz with a stick blender until almost smooth and combined.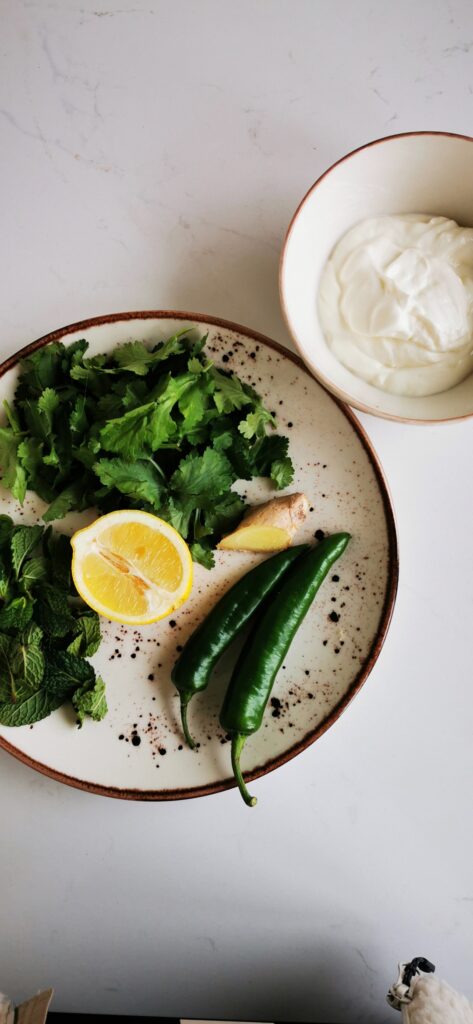 8. Remove cauliflower from the oven, drizzle with the mint and coriander chutney, some chopped coriander leaves and DEVOUR! 
---
Serving Suggestions
This can be served as a main with Basmati rice, toasted flaked almonds and extra chutney 
OR 
As a salad on a bed of leaves with pomegranate seeds, red onion, brown rice and some tahini dressing. 
---
Author:
Yvonne is the co-founder and owner of Naturally Nourished, a qualified Nutritionist and an exclusive Nutrition Partner for CRAOI.

Join the CRAOI community today on Instagram '@craoi_theory', LinkedIn 'CRAOI' and stay tuned for the launch of the official CRAOI website and member platform & technology.
---