In life, we all want to be happy right?
We are yet to meet someone on this earth who would say otherwise. We also know that on average, we spend 5 days out of 7 every week at work. So being happy at work and with our workplace is a big piece to our ongoing happiness puzzle.
When we are happier at work, we are going to perform better and are more likely to stay our company. So, it's a no brainer that if companies prioritise and invest in organizational and management practices that are conducive to employee happiness, they are more likely to experience better performance because they have more chance of competing and attracting the right employees in the first place.
However, in a large-scale survey conducted of 1,073 US executives by the Harvard Business Review, around 87% agreed that workplace happiness can provide their firm with a competitive advantage. However only a third of organizations see employee happiness as a strategic priority, and fewer than 20% have any sort of employee well-being strategy in place. There are many ways in which companies and leadership can support happiness in the workplace. Here are some keyways in which you can get started: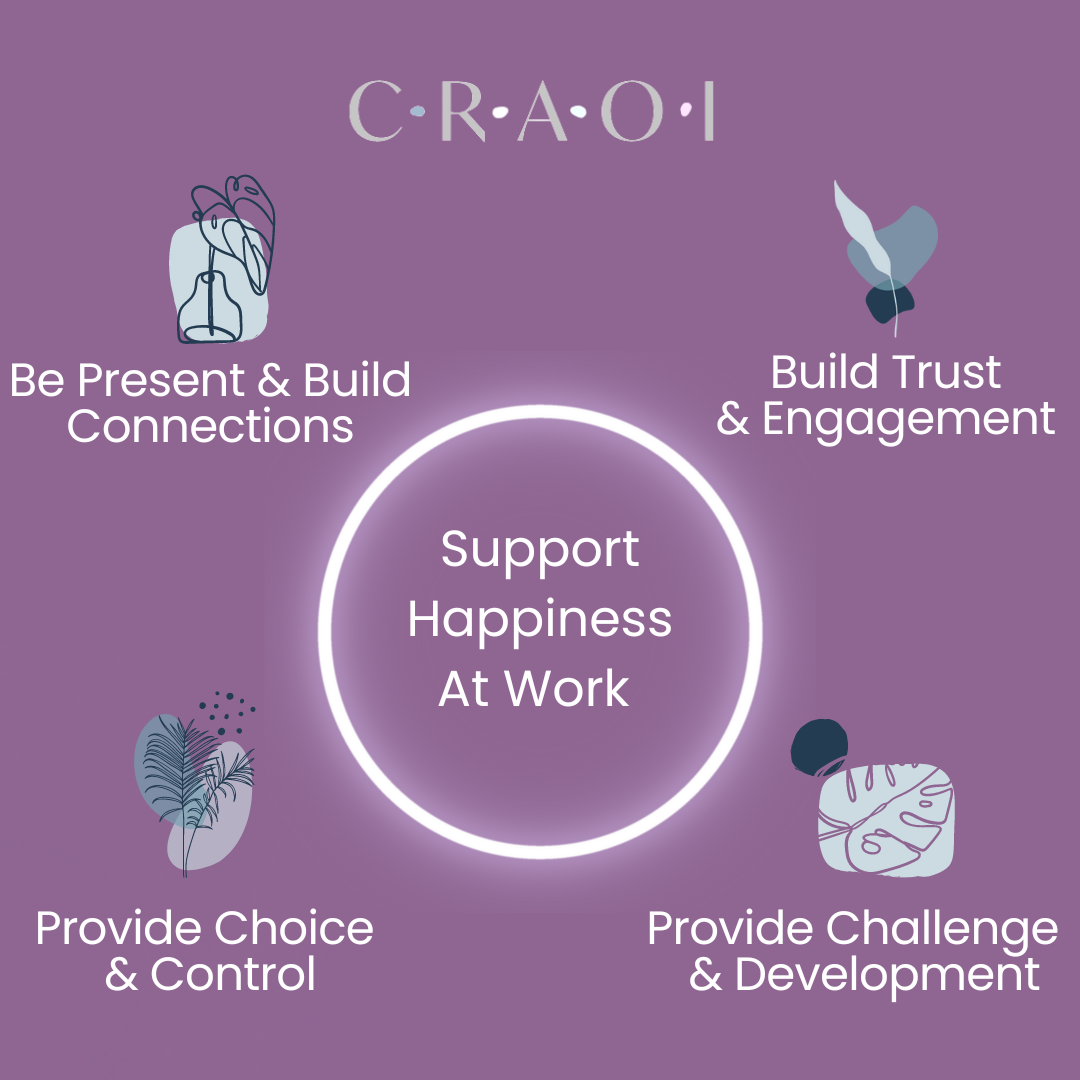 Be Present & Build Connections
Recent studies show one of the most important elements of having a positive work experience is having leaders who are both present and accessible. Check in with your team, ask genuine questions and be responsive. These acts of leadership help pave the way toward employee happiness. Recent studies also show when employees feel their leaders have a sense of empathy, they report better mental health and wellbeing.
Build Trust and Engagement
Give people feedback, autonomy and hold them accountable. Lett them know how you value their contribution and how they can continuously improve.
Provide Choice and Control
Research by the University of Birmingham finds when people have greater control over their tasks and schedules at work, they also report greater levels of wellbeing and job satisfaction. In our recent global survey of 250 respondents, 90% of users say that they want a well-being solution that offers choice & flexibility.
Provide challenge and development
Burnout is characterized by feeling bored, stuck and like a job is a dead end. On the other hand, when people have the opportunity to stretch, grow and learn, it contributes toward happiness. A state of flow in which people lose themselves in great work is often characterized by a significant challenge. Working hard, solving tough problems, sweating (literally or figuratively) and having to build capabilities are all contributors to happiness and motivation. Provide interesting work, give people stimulating responsibilities and enable them with the tools and learning opportunities which will help them succeed.
Offer a Holistic Well-Being strategy and solution
Remember that every single employee or leader is human. As humans, we are emotional, and we feel things. When it comes to well-being, we need a holistic approach that supports us at work and beyond. Wellbeing is holistic and life does not happen in compartments. When we are happy at home and in our community efforts, we can bring more happiness and energy to work as well. This is the whole ethos of CRAOI and why it was born; to support individuals in restoring and maintaining a healthy work life balance by offering a holistic well-being solution that has been created by the user for the user.